Primo Shipping Program
Membership Fee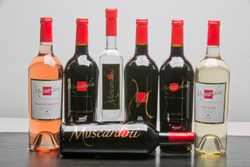 WHAT IS THE PRIMO SHIPPING PROGRAM?
A Primo Shipping membership allows members to order wine all year with NO shipping charges. A prepaid membership fee of $120 will apply to all orders you place online, over the phone, and at our tasting room throughout the year (including wine club shipments for club members!). You won't pay any additional shipping fees on any orders for an entire year, and, you can even take advantage of any our online specials and promotions!
HOW IT WORKS
Purchase a one-year Primo Shipping membership for $120
Login to the website and place an order of at least $79 of your favorite wines, anytime
Choose "ground shipping" at checkout – your order will ship at no cost!
WINE CLUB MEMBERS
Primo Shipping will be applied to all wine club orders and shipments. Each additional order outside of club shipments that total $79 or more is also eligible for free shipping. Note, Primo Shipping applies to all orders placed online, over the phone, or when visiting our Tasting Room.
TERMS AND CONDITIONS
The Primo Shipping Membership fee is non-refundable and non-transferable. Primo Shipping can only be applied to individual orders of $79 or more when Ground Shipping has been selected. Orders may not be combined to reach the required $79. Primo Shipping is available only in the following states: AZ, CA, CO, CT, DC, DE, FL, GA, ID, IL, IN, IA, KS, LA, MA, MD, ME, MI, MN, MO, MT, NE, NV, NH, NJ, NM, NY, NC, OH, OK, OR, RI, SC, TN, TX, VT, VA, WA, WV, WI, WY. Unfortunately, we do not cover the cost of returned, reshipped, or redirected wines under the terms and conditions of the Primo Shipping program. All reshipped packages will have standard shipping charges applied.
LEARN MORE
For further information & detail about the Primo Shipping Program, please email info@muscardinicellars.com