Harvest Experience Sept 27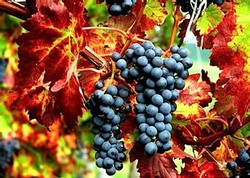 This year's Harvest Experience is a 3-part event in our beautiful and serene backyard. Join Winemaker Michael Muscardini, Vineyard Owner Dan Sanchez, and Wine Club Director Karen Hannah for an interactive discussion about this year's harvest followed by a blending seminar and catered lunch.
Part 1 - Interactive Harvest Discussion & Demonstration
One of the prized vineyards that Michael Muscardini has made Brunello-style Sangiovese from for many vintages, Alpicella Vineyards is located within the premier AVA of Sonoma Valley. Meet vineyard owner and grape grower, Dan Sanchez, who will share insights about the harvest process in the vineyard and educate us on the beginning of the winemaking process. During the discussion you will sample and crush grapes, test brix levels, and see where the magic of harvest begins while enjoying conversations around grape growing and the critical things that go on in the vineyard during harvest.
Part 2 - Blending Seminar
After learning about wine from the vine to the bottle, it will be your turn to be the winemaker. Using Sangiovese, Syrah, and Cabernet Sauvignon just as Michael Muscardini does, you will create your own blend of Tesoro - our signature Tuscan-style blend, and even take home a sample of your custom wine blend!
Part 3 - Harvest Lunch
Enjoy our 2016 Sangiovese from Alipcella Vineyards with a locally-sourced catered lunch provided by one of our Sonoma favorite local purveyors.
Tickets are $85 for wine club members, $105 for general public.
Tickets include interactive harvest discussion, blending seminar, and lunch
Please contact Karen Hannah to purchase tickets or for more information:
707-933-9305 | wineclub@muscardinicellars.com